Diamond Size Guide
---
The following is an image that summarizes Carat Weight for round diamonds: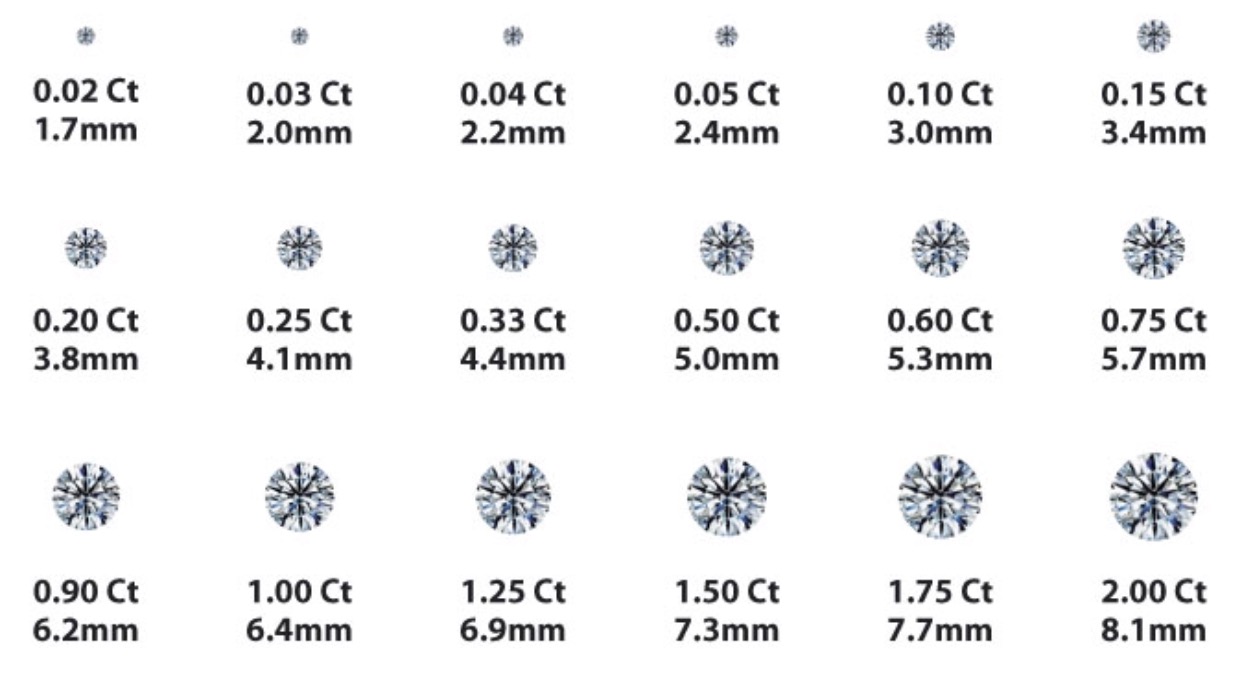 Diamond Carat And Carat Size
---
Carat, one of The Diamond 4C's (carat, color, clarity, cut), is the unit of measurement used to describe the weight of a diamond. The word carat originated from the carob tree – the tiny seeds of this tree are well known for their uniformity and consistent weight. Traditionally, diamonds and gemstones were weighed against these seeds until the system was standardized, and 1-carat was fixed at 0.2 grams. 1-carat is divided into 100 points, just as 1 dollar is equal to 100 pennies. A diamond weighing one-quarter of a carat can also be described as weighing 25 points or 0.25 carats or 1/4-carat. Points are generally not used to describe weights over 1 carat.Your content goes here. Edit or remove this text inline or in the module Content settings. You can also style every aspect of this content in the module Design settings and even apply custom CSS to this text in the module Advanced settings.
Scarcity of Larger-Size Diamonds
Diamonds are formed between 75-120 miles beneath the earth's crust and may take thousands of years to surface where they can be mined. Most diamonds were actually formed billions of years ago. So while all diamonds are rare, the larger stones (1 ct or larger) are even scarcer. So, generally speaking, larger diamonds have a greater value per carat. This is why a diamond's carat size has the biggest impact on the price of the diamond.
Weighing the Diamond
Gemological laboratories usually measure the carat weight before the diamond is mounted, or when it is loose. In jewelry pieces that have more than one diamond, the carats are usually expressed in terms of the total carat weight. This weight is the combination of all the diamonds in a particular piece. Example: ctw. carat total weight, or tw. total weight, these are multiple stones. Example ct. carat total meaning one stone.
Size Versus Weight
People in the jewelry industry may use the terms size and weight interchangeably, although they are both different. Size refers to physical measurements in millimeters while weight refers to carat size. The variety of proportions in a diamond will yield stones that have the same carat weight but are different in size. When a diamond is cut well they tend to appear smaller in size. This is in contrast to a diamond that has been "spread", or a "large table" to cause the consumer to believe that the stone is larger than it really is. When considering purchasing a diamond, it is important to really understand both size and weight in terms of what appeals to your taste and budget. Weight tolerances are based on the FTC standards, mm vs weight.
Carat Affect on Cost
When considering the price of a diamond, you should think in terms of per-carat cost. In order to calculate the cost of a diamond, use the following equation:
carat weight times per carat cost = total cost of the diamond.
To calculate the diamond's per-carat cost, divide the total cost of the diamond by the weight. For example, if a diamond costs $1,500 and the weight is 0.75 carats, the per-carat price is $1,500 divided by 0.75 carats or $2,000.
Usually, the greater the weight of the diamond – the rarer it is and the greater the price. Expect to pay a premium for diamonds that are above 1-carat in weight. For example, a .95 carat diamond will cost quite a bit less than a 1-carat stone. See Save Real Money.